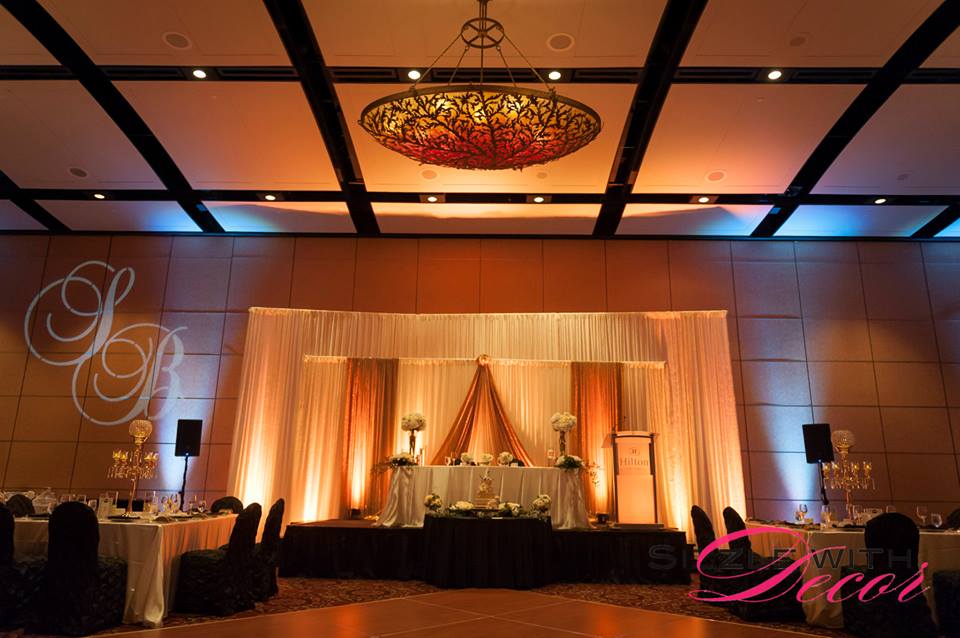 Click to view testimonial
Click on thumbnails to view gallery

Testimonial
Dear Estrelita, Elias & Angelita,
We felt so blessed to have Sizzle with Decor as our wedding decorators and event coordinator. We truly believe you are the best in Ottawa!  You turned our daughters wedding into an incredible affair.
Estrelita and Elias – how can we ever thank you enough for the wonderful ceremony and reception room that you created for Stephanie and Sam's wedding day!
When Stephanie and Sam walked into the ceremony and reception room it was beyond their expectations. The rooms were STUNNING, they were PERFECT right down to the smallest detail. They were beautiful, elegant and sophisticated and suited the venue.
I can't believe the long hours you put into it.  No one can imagine how long it takes to setup and take everything down.  When we arrived on Friday you and your team were there getting things ready and then again you were there the following day.  You worked tirelessly.  We were so surprised to see you yet again when the wedding day ended at 1:00 a.m. to take everything down.
This really made the wedding day absolutely stress free as we knew that everything would being taken care of to our satisfaction. Everything was absolutely stunning, gorgeous and elegant!!
This is only one example of why Sizzle with Décor won the Ottawa Wedding Award for the best decorator of the year.
We couldn't have asked for the décor to have turned out any better. Every detail was accounted for and looked absolutely beautiful. We received so many compliments on how unique the décor was at the wedding. Thank you from the bottom of our hearts for making our day so unique, special and unforgettable. …we would highly recommend you to anyone.
Thank you again so much for everything and especially for the extra work you put in to make the last-minute indoor ceremony beautiful, we know that you went above and beyond and Stephanie and Sam appreciate it so much!
Angelita – we knew we were in good hands with you as our coordinator.
Hiring Angelita as a day-of coordinator was absolutely one of the best decisions we made when planning the wedding. It was a special blessing to be able to know that Angelita and her assistant were setting up and making sure every detail was in place.  She stepped in and took care of everything — we  didn't have to worry about one thing. She was extremely professional and attentive and was always there to assist in any issues that came up. The wedding would not have been successful if it wasn't for her talent, passion and great attention to detail.  The wedding day was virtually stress-free. If there was a problem, she took care of it.
Angelita was on top everything, from ensuring that the bridal party was on time and where they should be, to fluffing Stephanie's dress, and helping her keep calm. She went above and beyond our expectations and was there to crack the whip when needed. She took a HUGE stress off our shoulders, in more ways than one. We couldn't have survived the day without her by Stephanie's side.
Angelita's organization and attention to detail made her worth far more than the rates she charges. We would highly recommend her to any couple planning their wedding; with Angelita's help, the wedding was the smoothly-run success! We had a wonderful stress free day and an awesome experience. Thank you.
Sizzle with Decor – is like a one stop shop! We never had to worry about anything because we knew that they were able to resolve any problems that would occur as part of the planning process.
The delivery of the entire event was impeccable and we will always be grateful for the incredible effort from the entire team.
Thank you Estrelita, Elias and Angelita for making Stephanie and Sam's dreams come true!
Louise and Andy
Parent's of the Bride