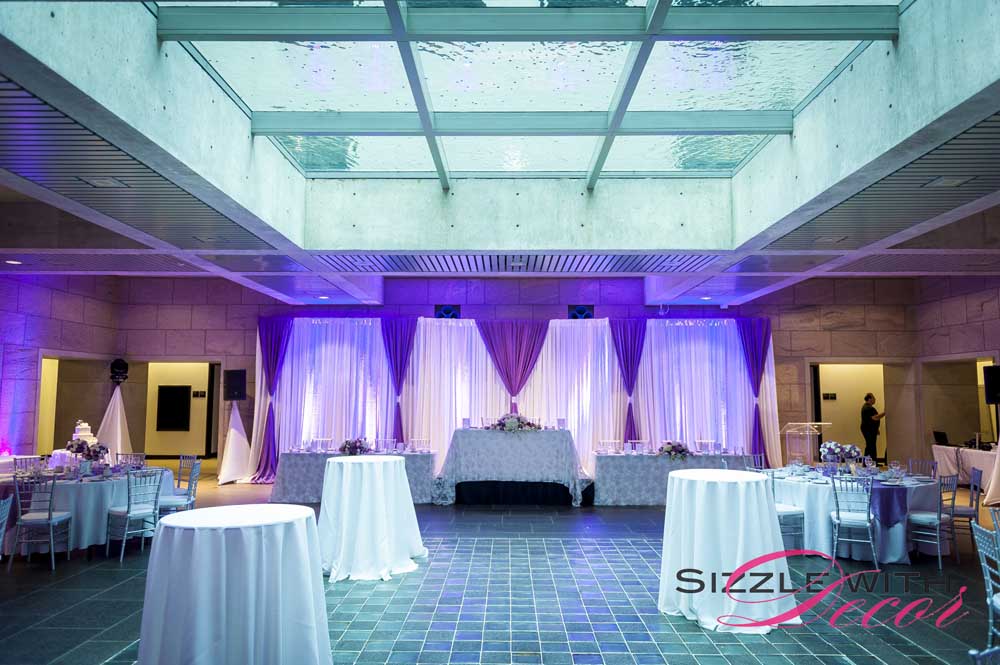 Click to view testimonial
Click on thumbnails to view gallery

Testimonial
To Sizzle with Decor,
My husband and I live in Edmonton, but we are both originally from Ottawa, and our wedding was in the Water Court Foyer of the National Gallery of Canada; I had to plan everything from afar.
Instead of an e-mail back from my initial contact, Estrelita picked up the phone and called me within minutes of me sending my inquiry …where do you find customer service like that?!
She spent over an hour with me on the phone explaining the process, asking me what my vision is, what the budget is, finding solutions to get what I want despite it and going through everything in detail.
After we hung up, she emailed me everything we spoke about. On that note, she is the only one in Ottawa that has the orchid colour, which was exactly what I had been looking for.
Due to the distance everything was done over phone and e-mail, but the day I arrived to Ottawa
I had an appointment with her to show me everything we had chosen and Elias was there, he was very welcoming and friendly.
It was the first time I met her in person, and she is a wonderful lady.
While I was there she even helped me with other last minute wedding preparation stuff, and she shared a few of her business contacts with me, which was very generous of her.
Estrelita, Elias and their team went above and beyond our expectations!
My husband and I had a sneak peek of the reception before the guests arrive and we were speechless; and when the guests arrived they complimented on how the room was completely transformed.
Working with her was such a pleasure with her positive spirit.
Her success comes from her hard work, whatever questions I had, she would e-mail me back no matter the hour.
Also, I felt reassured that I was her only bride that day, and that she would be at the venue overlooking everything, this goes to show that she is about quality and not quantity.
All in all it was an amazing experience, Estrelita and Elias made the process easy, never a hick-up.
In the end, it did not feel transactional; it felt like I gained a friend.
We will highly recommend Sizzle with Decor to family and friends.
Thank you Estrelita and Elias for making our vision come to life! We can't thank you enough!
Anthony and Anne-Marie Bourdeau