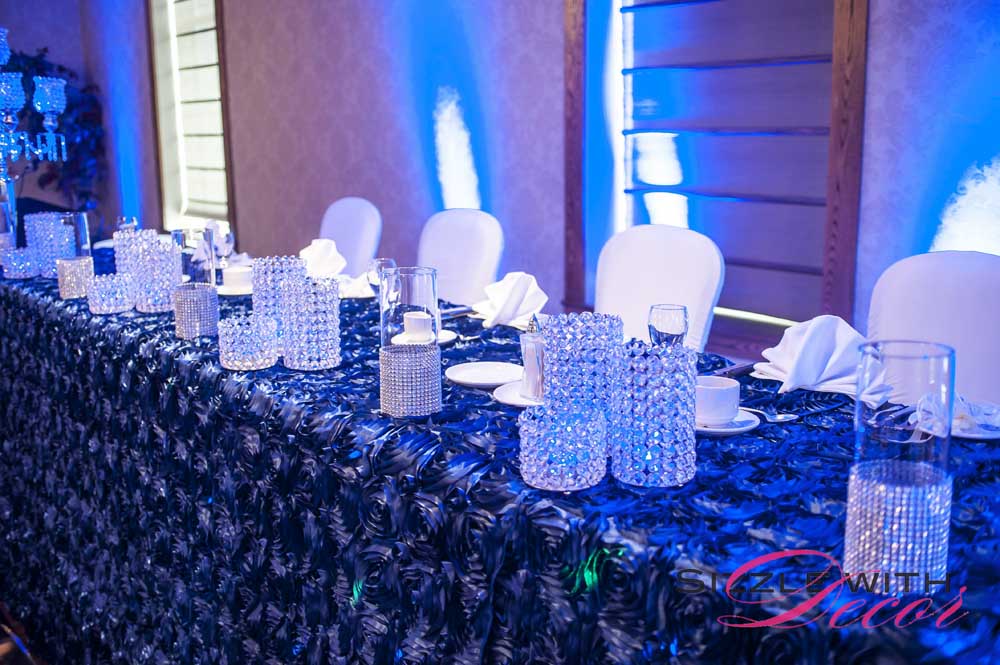 Click to view testimonial
Click on thumbnails to view gallery


Testimonial
Dear Estrelita and Elias,
When we were in the market of looking for a wedding decorator I emailed and called several different companies for information and quotes. Believe it or not there were many people I contacted whom did not return my call or reply to my email. There was an exception though to one of my inquiry emails, there was just one person who did call back 5 minutes following an email that was sent to them, and that one person was Estrelita from Sizzle with Decor. From the moment I spoke with her I knew that she was a focused, detail oriented, knowledgeable, stylish, and hardworking individual.
The key points that she focused on during our conversation was our budget, our main decor priorities, our venue, and if we had a certain style in mind. She quickly booked us in to see her for a full consultation. Once we arrived at her house, her and her husband Elias were extremely welcoming and friendly. During the appointment, she asked what our preferred colours were and she had given us some ideas on possible styles. By the end of our meeting, my fiancée and I had picked out exactly what we wanted and came to an agreement with a quote that was provided. Leading up to the wedding, we had a couple of meetings with Estrelita and Elias at our Lord Elgin venue.
This venue was a very special one for them as it was their very first decorating contract that they had ever done at that location. Walking into the reception hall on the day of our wedding was completely magical!
Everything we had chosen came together so beautifully; the colours, the lighting, the detail, had brought me to tears! Estrelita and Elias did the most amazing job with decorating the Lord Elgin. The hall looked so glamorous and romantic. I must say that if you choose Sizzle with Decor to be your wedding decorator or decorator for any other event, you will not be disappointed. Estrelita and Elias are very hardworking, knowledgeable, and completely reliable.
Sizzle with Decor is a company that you would be completely satisfied with from beginning to end. Thanks again Estrelita and Elias and I apologize for the tardiness of this testimonial, our lives have been quite busy lately.
Graziella and Andrew