Wedding planning can seem stressful, extremely overwhelming and you might look at your wedding to do list as part of an endless mission. You will have to make so many little decisions leading up to your big day such as your wedding budget, who to invite to your wedding and what your catering options will be.  With all these decisions, wedding decorations is what most brides look forward to during the planning process.
As part of your wedding choices, you will need to determine your wedding palette, themes and style. This can be extremely difficult as it is not as easy as picking two of your favorite colours and hoping it will work out. They are a few things to determine.  There's much more to consider, especially if your wedding day is going to be the elegant celebration you expect.
Sizzle with decor is here to help you figure out where to start when choosing your wedding colours and style.
Tips for Choosing Your Wedding Colors and Style
Choosing your Wedding Colours
They are a few basic rules to follow when picking your wedding colours. As a general rule, colours that work well together are usually on opposite sides on a colour spin wheel (See below). This is because these colours pairs the cool and warm colours (think of a coral and grey wedding). The neighbouring colours on the wheel also work well together, as they share a basic primary color (for example lilac and mauve pink).
Pro Tip: Pair a bright colour with a more subtle, neutral shade.
Be Inspired
You may have your own ideas and style, but it does not mean you can't do a bit of research. Use wedding blogs, Pinterest and wedding magazines to guide you with your research. You will be able to see how colours work together and possibly help enhance your own ideas. Doing research will help you settle on a wedding palette that works for you. Keep in mind the colours in your reception room.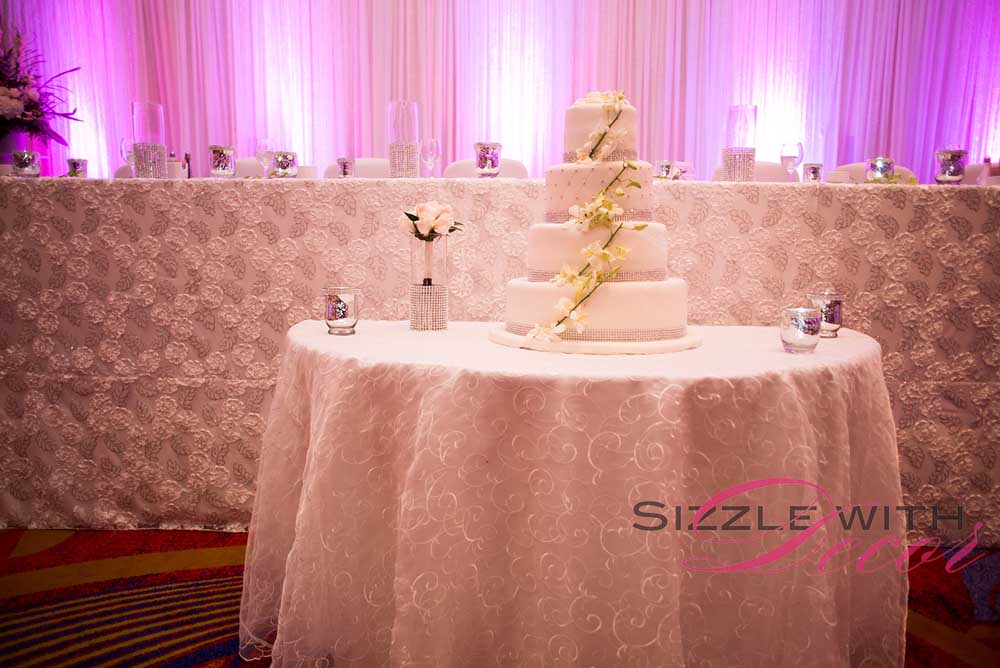 Think of your Wedding Mood
What sort of mood do you want to create for your wedding guests? What sort of style do you want to achieve for your wedding decor. For a romantic feel, soft colours such as ivory, white and blush will express this perfectly. If you are thinking of a more dramatic feel, deep reds will be more striking.
Think of your Wedding Season
You should keep your wedding season in mind when thinking of your wedding theme and decor. The colours should reflect the season. If you are having a wedding during spring, brighter colours work well. If you are having a winter wedding, think silvers, crystals and blues.
Remember, there's no need to avoid certain colors you love simply due to some perceived seasonal rule, and you can always lighten a hue or add an accent colour there to bring your wedding palette in line with the seasons.
Keep it simple and be flexible
Don't stress about the whole process. Let a decor specialist at sizzle with decor help you with your need. Be as flexible as possible as some colours will also be determined based on your venue look and style. Do not feel pressured to pick a wedding colour just because everyone is doing it. Your wedding colours will determine a lot of other things such as the flowers, bridesmaids dresses and lighting package.
This is a guideline, you should choose something that will make you happy, reflect your style and mood.
Happy Planning
Contact us today for all your booking needs.